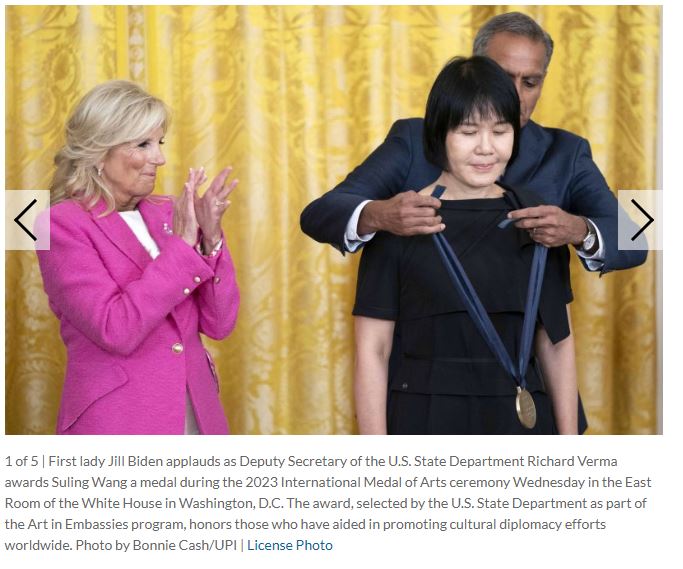 Sept. 13 (UPI) -- First lady Jill Biden presented this year's 60th International Medal of Arts awards at a White House ceremony Wednesday night to five artists who have promoted cultural diplomacy around the world.
"For 60 years, the State Department has recognized the diplomatic power of art, distributing works to American embassies and deploying over 200 U.S. artists as culture envoys to local communities," the first lady told the audience.
The five recipients of this year's International Medal of Arts awards -- presented by the State Department's Art in Embassies program -- are Tony Abeyta, a Diné contemporary artist from a family of Navajo artists; Sheila Hicks, who has painted in Chile and documented archeological sites throughout South America; Robert Pruitt, who paints life-sized portraits of Black figures referencing hip hop and African artistic forms; Suling Wang, who is known for her large-scale, abstract paintings; and Hank Willis Thomas, a conceptual artist who focuses on perspective, identity, commodity, media and popular culture.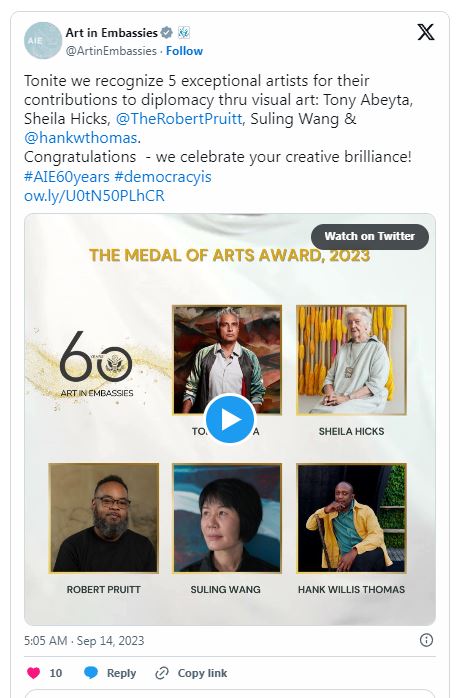 "In embassies and ambassadors' residences in countries across the globe, the art of our five incredible medalists hangs on the walls. And as guests enter, their works are not only a declaration of who we are, they're an invitation to a conversation and an opening for connection," the first lady said.
In addition to creating art, exhibited in embassies around the world, the artists have spent their time speaking at workshops and exhibitions.
"Each of our recipients today -- each of you -- has done our world a service," Biden added. "In other cities and other countries, you've woven more threads into that same tapestry of connection and fellowship. Because diplomacy isn't only about the government-to-government relationship; it's people to people, heart to heart."
Each artist was presented with a medal at the ceremony, as their works were displayed on a screen along with the embassies worldwide where their art can be enjoyed.
"Art is about connection. Art is the evidence and expression of our humanity. And even when it's easy to get caught up in differences, art can unite us," Biden said.
"Connection is what diplomacy is all about."